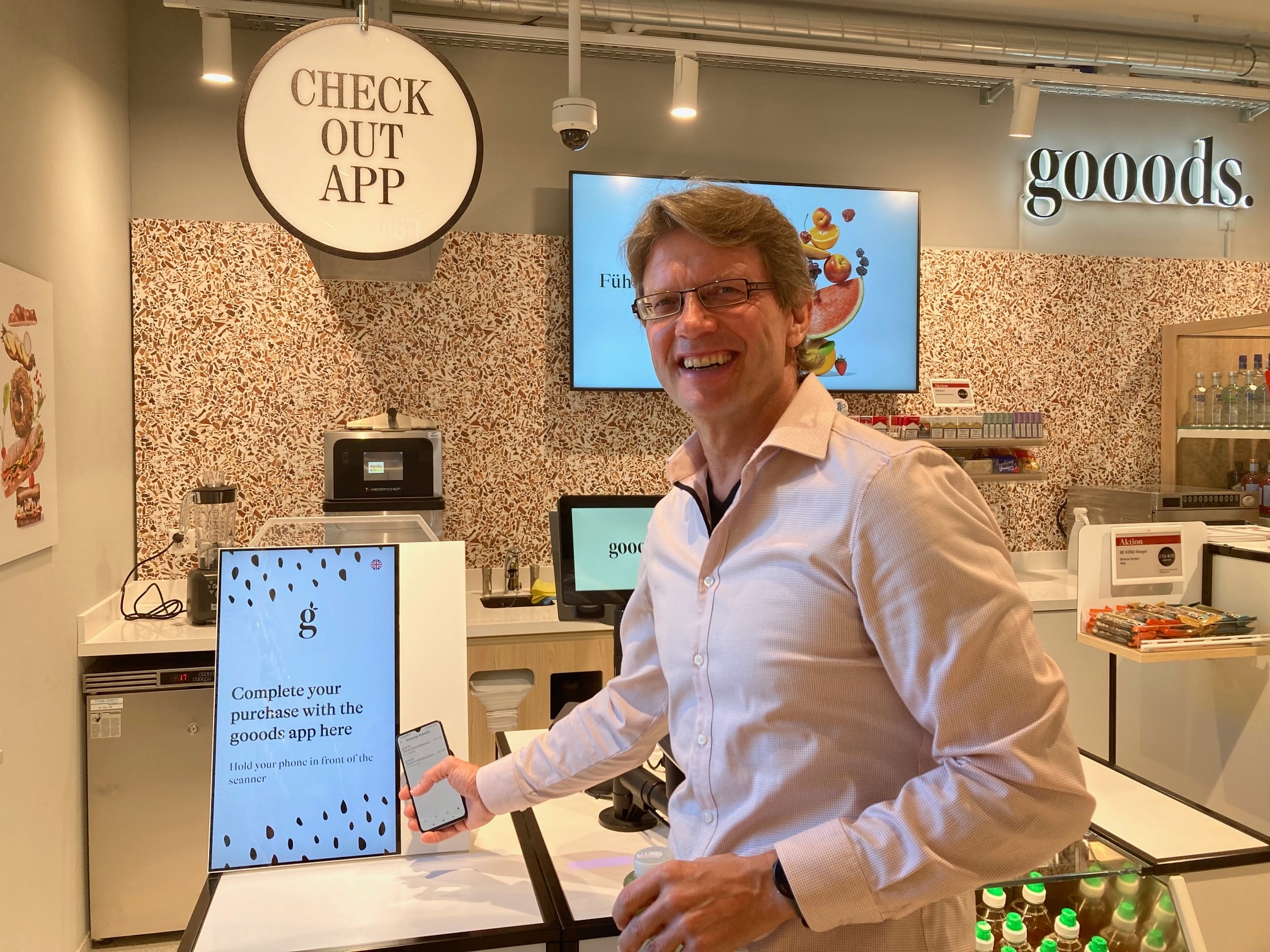 Partnerships
In our new convenience store, everything is "gooods" with CiRRUS
Conversation between Nicola Rolando, BiCA Product Manager, and Fabien Siebenschein, IT Project Manager in charge of the new gooods concept.
Nicola Rolando: The opening of your new convenience store at the Zurich Tiefenbrunnen Station using the new CiRRUS checkout system took place on 2 September and without any hiccups – "gooods", is all we can say.
Fabien Siebenschein: The fact that this vision became a reality within just one year is thanks to the great commitment of everyone involved. An important building block was your POS system. As known, CiRRUS is not only a cloud POS. It supports any technological solution that we have implemented. And the new gooods app with Scan & Go and discount coupons corresponds exactly to the zeitgeist of an active lifestyle target group.
Nicola Rolando: Great to hear! Of course, the technological innovations are based on our joint experience within the framework of a larger collaboration. But, yes, the integration into the new shop concept was indeed quite rapid. What is the initial customer feedback?
Fabien Siebenschein: Positive throughout. Especially at the station location, customers appreciate the efficiency to scan and pay for their purchases themselves with the personal app.
Nicola Rolando: The integration of electronic price labels ESL (Electronic Shelf Label) for the labelling of products and digital screens for the dynamic customer approach is state-of-the-art technology.
Fabien Siebenschein: This shop concept appeals to today's customers welcoming these technical options for saving time. With the app, purchases are self-scanned and customers retain an overview of their items at all times – including for later price comparisons.
Nicola Rolando: How does the range differ from conventional convenience formats?
Fabien Siebenschein: The gooods concept focuses even more on a unique shopping experience. In addition to tried-and-tested leading articles, customers will also find trendier brands and an organic unpackaged nuts selection that you can mix yourself. You'll also find products selected for their sustainability, such as coffee with organic coffee beans and smoothies prepared on site.
Nicola Rolando: I also like the water station for filling up your own bottle. What's next?
Fabien Siebenschein: We're now seeking even more experience at the Zurich Tiefenbrunnen location so we can incorporate additional customer feedback into the next pilot shops opening over the coming months.
Nicola Rolando: gooods! Through API, we will be able to integrate even more technological solutions easily and quickly with the CiRRUS platform in the future. To make sure you can always count on us.
gooods opening hours at Zurich Tiefenbrunnen Station:
MON to SAT: 6 am – 11 pm
SUN: 7 am – 9 pm
For more information, visit the new gooods website https://www.gooods.ch/,
follow gooods on Instagram or Facebook via gooods.ch or download the gooods
app in the Google Play Store/App Store.
Your business. Your set-up.
Your next-level cloud-based business starts right here. Our experts will guide you into your future with CiRRUS. Completely seamless & without interruptions.