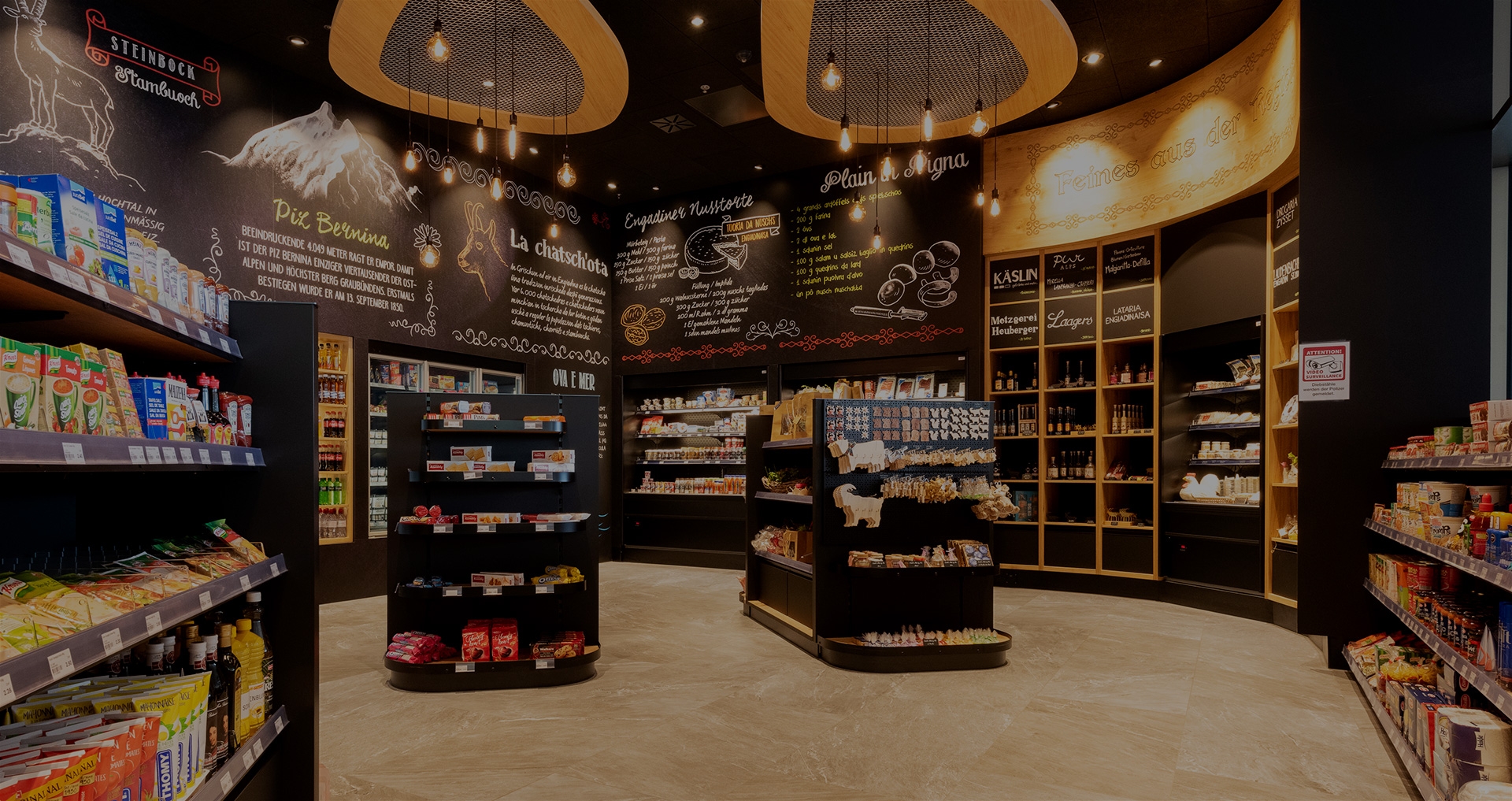 Partnerships
Enjoy your stop in Upper Engadine
Light radiates from the SOCAR petrol station and convenience store in the new Porta Samedan shopping centre near St. Moritz. Located in the modern retail area, the site offers customers a nice break, shopping experience and much more. With the BiRS 4.x software paying for services here is also easy.
With Porta Samedan, Auto Pfister AG has created more than a shopping palace. The triangular floor plan, modern arcades and the façade of 800 elegant reflecting aluminium tiles make the building eye-catching and a point of reference in the area. Its architecture symbolises the mountains, light and rivers of the Engadine. 
Besides the petrol pumps, it does not have much resemblance to a conventional petrol station. Architects and designers have put the quality of the experience at the forefront. At the bistro-café "Spuntino", the bakery and the shopping area, travellers can relax and enjoy their visit while locals meet for lunch or aperitif. Spacious and stylish, the ambience is ideally suited to the atmosphere of nearby St. Moritz. 
Payment options in Samedan are as varied as the offer. A queue in front of the only cash register? Not here. Customers can conveniently pay from their vehicle, in the car wash or at the counter. They also choose the payment method, including Google Pay or another payment app on their smartphone. The BiRS 4.x checkout and merchandise management system from Lucerne-based BiCA AG showcases its flexibility here. The device-independent system brings together data from all tills and touchpoints and tells the staff at any time how many francs have gone into the system and what still remains on the shelves. Because BiRS 4.x is easy to operate, employees behind the counters can take their time with customers and guests in a relaxed and friendly manner. 
See for yourself! You will find Porta Samedan in the Swiss Alps, at the eastern roundabout on main road 27 between the Samedan railway station and the Samedan airport. 
Your business. Your set-up.
Your next-level cloud-based business starts right here. Our experts will guide you into your future with CiRRUS. Completely seamless & without interruptions.